T5-lightings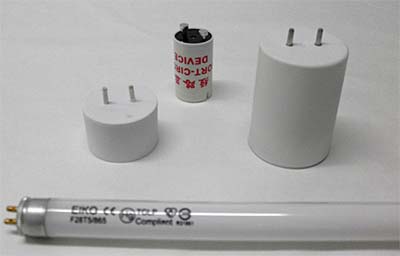 This is a T8-to-T5 direct conversion... without changing the original T8 lighting-fixture). This "3-in-1" T5-ballast does "NOT" need any additional or extra "Aluminum bar" bundle together with T5 light-tube. This type of ballast supports both 28W (1149mm) & 35W (1449mm) T5 solutions.
** We also have another type T5 digital ballast ("Parallel" circuit-design), which supports 1-to-1, 1-to-2, 1-to-3... upto 1 x 4pcs (T5 tubes) solutions —> for 14W, 21W, 28W and 35W.
T5 Fluorescent Tube
Qualified for the European and California USA environment requirement.
Fluorescent powder are form (Japan-Asia Chemical) or Philips.
Adopt the solid type Mercury to protect environment.
Certificated by Taiwan Energy Saving Mark (efficacy is 15% better than the same grade product)
Produced by the most advanced fully automatic facility.
T5 vs T8/T9 Comparisons:
Items (Descriptions)
T9/T8 (20W)
T5 (14W)
Light-tube power
Numbers of lamp-tube (each set of light-tube)
Ballast & inverter

Each lamp-tube luminance (brightness)
4pcs lamp-tubes luminance (brightness)
Input power (Each lighting set power consumption)
Numbers of light-fixtures (Total)
Total luminance (Each set luminance x Total light fixtures)
Power consumption (Input power x Total light fixtures)
1-degree rating = 1,000W/1hr.
Average usage (each day)
Average power rating usage (consumption) each day
Average usage (each year)
Average power rating usage (each year)
Power (energy) saving each year
Energy saving (reduction) percentage

20W
4pcs
Linear
(Transformer)
1,050 lm
4,200 lm
88W
25 sets
105,000 lm
2,200W
1,000W
12 hrs
26.4 deg.
300 days
7,920 deg.



14W
4pcs
Digital
(Electronics)
1,250 lm
5,000 lm
61W
21 sets
105,000 lm
1,281W
1,000W
12 hrs
15.372 deg.
300 days
4,611.6 deg.
3,308.4 deg.
42%

Electrical Ballast Invention Patent in USA